Finding belonging: REDspace's Brandon Cha advocates for better Queer representation in tech.
It's been almost one year since Brandon Cha joined REDspace as a Junior Software Developer. In that time, he has stood out as someone working to create a more inclusive and welcoming environment for Queer professionals in tech. Whether working on custom-tailored applications at REDspace or being a QueerTech conference panelist, Brandon is helping other Queer individuals find their way in the tech industry.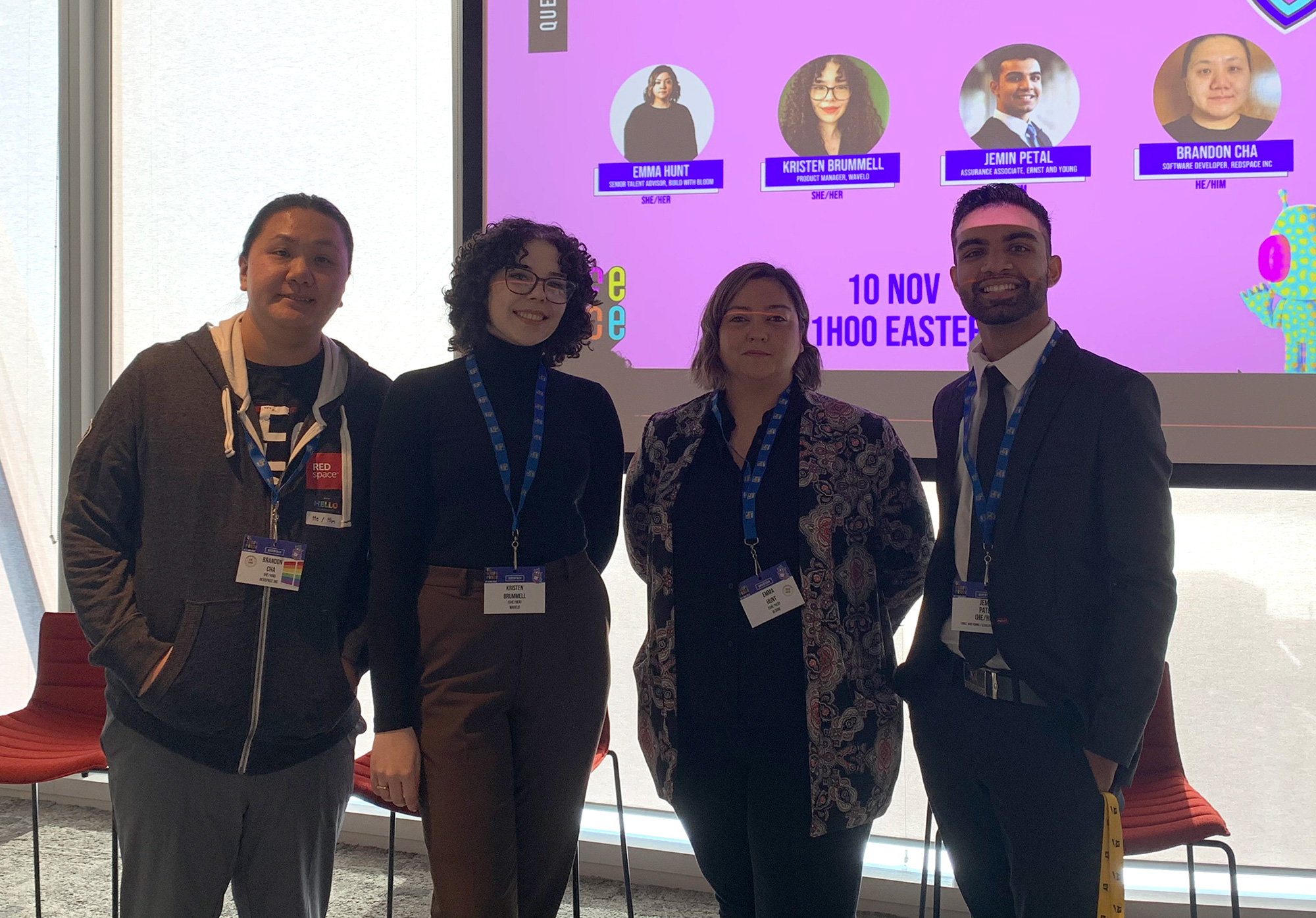 Living and working remotely from Toronto, Brandon has found the best of two worlds. He is pursuing his career passions with REDspace and remaining part of his home community.
As a Queer person, Brandon profoundly understands the importance of having safe places where people can be themselves, in public and at work. Brandon stresses that safe spaces do not occur by chance. "Companies have a social responsibility to be intentional in growing a diverse workforce where everyone belongs."
Brandon found his sense of belonging as a new graduate, attending a QueerTech meet-up in 2021. After chatting with the Founder and CEO, Brandon was keen to get more involved with QueerTech, and that's precisely what he did.
QueerTechMTL was founded in 2016 in Montreal, QC and was initially a meet-up group to connect Queer professionals in tech. With interest in the meet-ups growing and the organization's role expanding, in 2019, the organization became QueerTech. While still headquartered in Montreal, QueerTech was now helping connect Queer people in tech, or interested in it, across Canada to build relationships. As a happy coincidence, it was at a virtual QueerTech event in late 2021 that Brandon was introduced to REDspace and began the process of joining the team.
By October 2022, Brandon had ten months at REDspace under his belt and was about to attend his first conference as a tech professional. This conference was a milestone of multitudes, as it was his first QueerTech conference and his first experience as a conference panellist.
Along with two other panellists, Brandon participated in a Q&A style discussion on Breaking Into Your Career: Inspiration to guide you. Using personal and work experiences as his discussion points, Brandon offered new grads and people looking to start a career in tech words of encouragement and advice. When describing his most poignant advice, Brandon was clear.
"Whether you are an extrovert or introvert, networking is very important. By opening yourself up to people who share your passion, you are opening doors that you don't expect to have opened."
It's through relationships, like the ones he has made with QueerTech, that Brandon sees the opportunity for better Queer representation in the tech industry.
"Organizations like QueerTech make it possible for companies committed to having greater diversity to find the right people," says Brandon. "Companies like REDspace see the value of diverse people and perspectives on their teams and in leadership roles. By engaging with QueerTech, REDspace can find the skilled and motivated professionals they need."
When considering opportunities for Queer professionals in tech, Brandon is optimistic.
"We are a community that is proud and is becoming more visible. It's taken time, but the tech industry is one of the pioneer industries working toward equitable and inclusive workplaces. And while there is still a way to go, I see a place for everyone in the industry."
To learn more or get involved with QueerTech, visit their website.